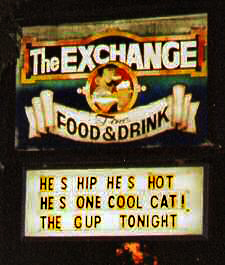 GOLDEN GUP LIVE...
GOLDEN GUP AT THE EXCHANGE

Wednesday evenings at The Exchange 160 East Main Street, Rockaway, New Jersey 07866 (973-627-8488) from 8pm-11pm.
A Wednesday night tradition for over 25 years - one of the longest established (if not THE longest established) "Pop/Swing/Rock & Roll/Rhythm & Blues" nights in Northern NJ!
31ST ANNUAL MORRIS PLAINS MEMORIAL DAY PARADE
Saturday, May 25th 2019 - parade begins at 9.30am following a service at 9am at Robert's Garden heading south on Mountain Way to Rosedale Avenue, making a left turn onto Speedwell Avenue to head toward town. It will continue to Route 53 and end at the Watnong VFW. Come see your Golden Guppy and special guest Dudley Warner - hero and local veteran - in the Jukebug! Gup is so proud and honored to be a part of this wonderful community parade!
38TH ANNUAL DENVILLE ROTARY STREET FESTIVAL
Sunday, June 2nd, 2019 11-6pm, Broadway, Denville, NJ. Gup's home town street festival is always fun! He's been co-ordinating the entertainment and MC'ing for EVERY year of this FREE event! Loads of vendors, live bands, local organisation performances and a great family day out. Support beautiful Denville, buy a 50/50 ticket, eat yummy food and have a blast! For more information you can always check out the Denville Rotary website!
32ND ANNUAL ANTIQUE & CLASSIC BOAT FESTIVAL & THE ARTS
Friday - Sunday, June 14th - 16th 2019, Chesapeake Bay Maritime Museum, St. Michael's, MD, 21663. Gup will be spinnin' tunes and announcing for the event. With lots to see, learn, and do - this is THE event to see some of the country's most beautiful craft! For further information visit the A.C.B.S. website!
LEAD EAST 2019
Labor Day Weekend 2019, Hilton Parsippany, Parsippany, NJ 07054. How can it be described? It's a car show unlike any other - click on the "Jukebox Drive" video on Gup's videos page and you'll get a feel for the event! Gup appears throughout the weekend spinning vinyl at the Thursday night dance, introducing special guests, playing with the Rhythmhancers on Saturday night, as well as hosting (in the Jukebug) the "BEST GUTBUCKET RHYTHM AND BLUES" infamous parking lot party next to his vintage fleet - an event that has gone on until sunrise Sunday morning! Visit the Lead East website for more information!
14TH ANNUAL WARREN TOWNSHIP CLASSIC, ANTIQUE, RACE CAR AND MOTORCYCLE SHOW
Sunday, September 8th 2019 9am to 3pm, Warren Township Municipal Grounds, 46 Mountain Boulevard, Warren, NJ 07059. One of the nicest one day shows - great location and great diverse selection of cars and bikes to look at! Check out the Warren Car Show website for more information!